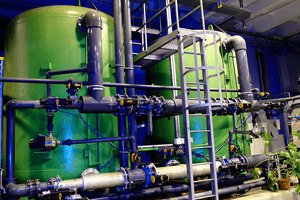 Companies in the water industry count on Buckeye Fabricating to provide highly specialized custom steel pressure vessels. Our vessels have been used in a wide variety of residential, municipal, commercial, and industrial applications, meaning we aren't tied to one specific sector of the industry.
As new and innovative ideas continue to come from the experts of the water treatment industry, Buckeye Fabricating continues to evolve to better serve those who work with this vital resource.
We have over 50 years of experience serving companies in the water treatment industry, manufacturing vessels such as:
Deaerators
Gravity filters
Hydro-pneumatic vessels
Ozone generators
Condensate polishers
Ion exchange tanks
Water purification filters
Portable water storage tanks
We understand that high quality workmanship and meeting delivery schedules are important to our customers, which is why so many companies from the water treatment industry have chosen to work with Buckeye Fabricating for their custom steel tank needs.
Contact Us
Call 1-800-688-9821 or fill & send below!