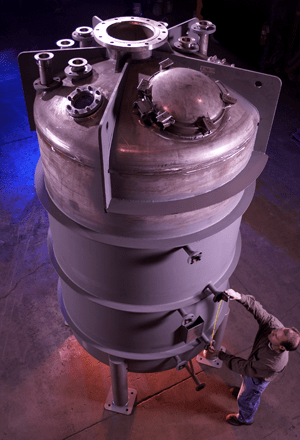 For more than 50 years, manufacturers nationwide have relied on Buckeye Fabricating for high quality custom process tanks. Our reputation and longevity have made us one of America's most prominent producers of fabricated ASME tanks.  Because our carbon steel, stainless steel, and exotic metal tanks are made-to-order, we can also accommodate your needs if you require a non-code process tank. Buckeye Fabricating operates from a tried and tested process to ensure safety and quality.  The result is the production of some of the most unique custom process tanks being manufactured in the industry today.
What We Do
Buckeye's engineering design team is one of the best. We work diligently to incorporate your unique project specifications into the design of your carbon steel, stainless steel, or exotic metal process tank. This includes engineering your tank to meet ASME or API 650 codes. Our CAD drawings will be sent to you for approval before we begin fabrication, so you are never out of the loop.
Safety is paramount throughout the design and fabrication process as well as the post-production inspections. Our rigorous quality control procedures guarantee that your tank will be safe, durable, and reliable.
For more information about our process tanks or the extended services we offer, contact us today. When you need a custom process tank, choose Buckeye Fabricating. You won't regret it.
Contact Us
Call 1-800-688-9821 or fill & send below!