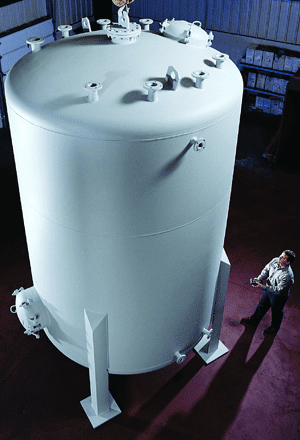 Get Quality Storage Tanks that Last Your Years and Are Crafted by Experts
Storage tanks have a wide range of uses and it can be difficult to find the right fit for your needs. With Buckeye Fabricating, you don't have to worry about this aspect. We have a strong portfolio of custom storage tanks in accordance to our clients' needs.
With over 50 years of experience and a team of knowledgeable individuals who understand how to design, install and craft tanks, we, at Buckeye Fabricating, are confident in our ability to produce the best storage tank for you.
Wide Variety
Not all storage tanks are created equally, which is why Buckeye Fabricating offers a wide range of custom storage tank options. Some of our popular storage tanks include the following:
Non-Code Storage Tanks
ASME Storage Tanks
API Tanks and more
In Carbon Steel and Stainless Steel
Luckily, we have the tools to craft any storage tank that you have in mind. At Buckeye fabricating, you can have any kind of storage tanks crafted in accordance to the specific requirements you have in mind.
Custom Design Services
Getting a custom storage tank is not an issue with our help. We can customize a storage tank which can be up to 12 feet in diameter and 40 feet in length. Moreover, storage tanks which can hold volumes of 30,000 gallons or more can be easily ordered with us too.
Excellent Support
Our design team works in conjunction with you to integrate all your requirements to craft the perfect storage tank for you. With our expertise in engineering, we provide you with detailed drawings in CAD in order to craft the finest storage tanks which are in accordance with industry standards.
Once you're happy with the storage tank design, our CNC plasma cutter will work with you in order to guarantee accuracy in sizing for fit up of all the cutouts for the storage tank in mind. With over 50 years of experience, we can provide you with the highest quality and accuracy in this respect.
We also use a line marking system in order to make sure that all attachments of the storage tank located properly. Our team will be incorporating all your feedback, each step of the way. Whether you want a pressure storage tank, a custom storage tank, ASME storage tank, pressure vessel or more, we can guarantee that you will be happy with the results we produce.
Quality You Can Trust
When working with us, you don't have to worry about quality. Buckeye Fabricating Company was established in 1963 and has crafted a reputation for producing custom fabricated, high quality storage tanks with competitive pricing.
Get in touch with us for more details regarding our custom storage tank services by calling us at 1-800-688-9821, send an email at sales2@buckeyefabricating or fill in our quote form.
Contact Us
Call 1-800-688-9821 or fill & send below!