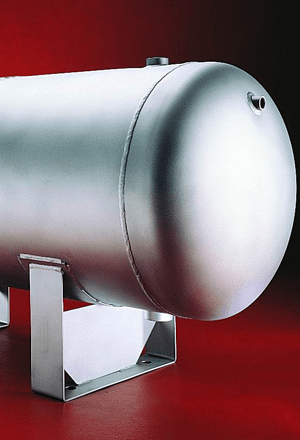 Crafting High Quality, Custom Air Tanks Since 1963
If off-the-shelf air tanks or air receivers won't suffice for your project, Buckeye Fabricating Company can produce ASME code, custom air tanks tailor-made for your specific application. We manufacture carbon steel and stainless steel air tanks – with the connections you want, placed where you need them to be. If you require a specific pressure rating, we'll design and fabricate a custom air tank to your exact requirements.
With over 50 years of experience in designing custom air tanks, we can ensure that you get the best one for any and all applications you have in mind. Whether you are focusing on getting air tanks in a certain material or with a certain pressure rating, you can find that and more with us.
Certified Air Tanks – ASME Code
As is true of all our custom process tanks and pressure vessels, Buckeye Fabricating Company's carbon and stainless steel air tanks are manufactured in accordance with the ASME pressure vessel code. Our extensive quality control system ensures that all custom air tanks have been properly designed, constructed, inspected and pressure-tested. We apply our stringent quality standards to custom air tanks of virtually any design, size or configuration
A Team of Experts
Custom air tanks at Buckeye Fabricating Company are crafted by a team of experts who focus on not only proper design, construction and fabricating; but also your feedback. From the design to the installation of the air tank, you can expect to get the best with the help of our designers.
With detailed drawings, we can ensure that you get the best custom air tanks in the marketplace. From the pressure rating of the tank to the size requirements, you can rest assured that you will end up with the best custom air tank which meets all your needs with ease.
Work With Us
With over 50 years of experience in crafting pressure air tanks and custom making them according to clients' specifications, Buckeye Fabricating Company has earned a stellar reputation for producing air tanks which are industry-specific, uphold the industry standards and are extremely customizable. Add in competitive pricing and Buckeye Fabricating Company has succeeded in being counted among the best companies for pressure air tanks in America.
If you want to get a custom air tank or want more details regarding Buckeye Fabricating Company's air tank services, you should get in touch with us. Call us at 1-800-688-9821 to talk to our representatives, send an email at sales2@buckeyefabricating.com or fill in our quote form to get more details about our services.
Contact Us
Call 1-800-688-9821 or fill & send below!