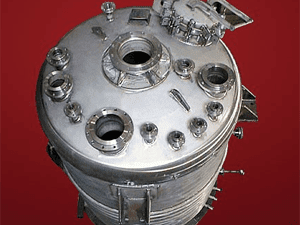 Custom Made Reactor Vessels are Not a Problem for Us!

Buckeye Fabricating Company takes great pride in constructing and designing custom reactor vessels and pressure vessels in accordance with the project specifications. Our years of experience in the industry have allowed us to successfully design, test and manufacture reactor vessels.
Attention to Every Detail

We can incorporate jackets, sight windows as well as account for mixer loadings into your reactor vessel upon request. Whether you need a small reactor vessel like those we produce for OEMs or one of the large custom pressure vessels that we typically fabricate for many chemical product manufacturers, we are confident that you will find the Buckeye Fabricating Company experience ideal for your next reactor vessel project.
Code Certified by American Society of Mechanical Engineers – ASME

Due to their potentially hazardous nature, custom Reactor Vessels require specific industry knowledge and expertise to manufacture. Buckeye Fabricating Company has an extensive record of constructing safe, long-lasting, stainless steel pressure vessels and reactor vessels. We excel in custom tailoring tanks and reactor vessels that meet not only your specific needs, but also the guidelines and regulations as determined by the ASME pressure vessel code.
Paying attention to quality means that Buckeye Fabricating Company pays extremely careful attention to the standards and specifications as stated in the ASME – American Society of Mechanical Engineers code for all pressure vessels. We also have an extensive system for quality control to properly construct and design, inspect and pressure-test all vessels we produce. Our attention to quality is evident in the end result and you won't be disappointed, that is for sure! In fact, our clients understand that they can trust us to produce the best pressure vessels for them.
Work With Us for Quality

Buckeye Fabricating Company was started in 1963 and has amassed a total of 50 years of dedicated experience, especially in crafting reactor vessels and customizing them in accordance with the project requirements and specifications.
Our dedication and attention to quality has allowed us to be counted among the best for producing reactor vessels that are in accordance with the industry and are specifically designed in accordance to the industry standards and requirements which are enforced. If you want to get a custom reactor vessel or want more details regarding Buckeye Fabricating Company's reactor vessel services, you should get in touch with us. Call us at 1-800-688-9821 to talk to our representatives, send an email at sales2@buckeyefabricating.com or fill in our quote form to get more details about our services.
Contact Us
Call 1-800-688-9821 or fill & send below!