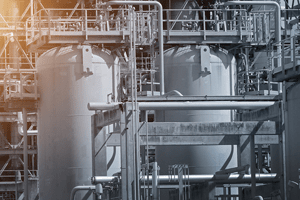 Users know that Buckeye Fabricating produces tanks that are rugged, reliable and safe, making them perfect for the petroleum industry. Our custom steel pressure vessels can withstand the high pressure and intense heat needed to get the job done in this industry.
All tanks built by Buckeye Fabricating are produced within strict quality controls; using a CNC plasma cutter to ensure close tolerances on all parts, using horizontal rolling to ensure concentricity and eliminate flat spots, and using quality assurance inspections at each stage of production to ensure our tanks meet the complex expectations of the oil and gas industry.
Some custom steel tanks we have fabricated for the oil and gas industry include:
Oil separators
Gas filters
Air receivers
Accumulators
Scrubbers
Buckeye Fabricating is well-suited to provide custom designed steel tanks for companies throughout the oil and gas industry. With our years of experience in designing custom steel pressure vessels to meet the ASME code, we can show you how our products can meet your custom pressure vessel needs.
Contact Us
Call 1-800-688-9821 or fill & send below!