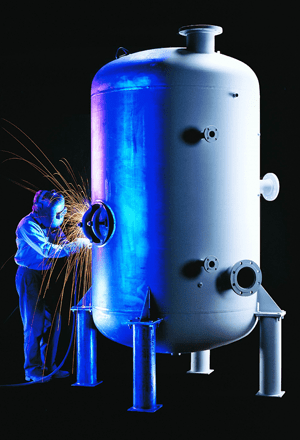 Carbon steel accounts for 90% of all steel produced worldwide. Buckeye Fabricating puts this steel to use manufacturing custom ASME code and non-code tanks for use in standard or special applications. Our carbon steel tanks are a great value, suitable for any and every industry. No matter what size or configuration you may need, we can help by designing and building a vessel that will meet your requirements.
Key Features
Many choose carbon steel because it is more affordable than stainless steel, though just as wear resistant. Carbon steel contains as much as 2.1% carbon, making it a harder, stronger steel. Tanks constructed from carbon steel can be lined or painted to improve their chemical and water resistance, allowing them to hold most types of fluid or gas.
Buckeye offers a wide variety of options to reinforce your carbon steel tank for your specific needs. Contact us to learn more and don't forget to check out our other products and materials.
Contact Us
Call 1-800-688-9821 or fill & send below!