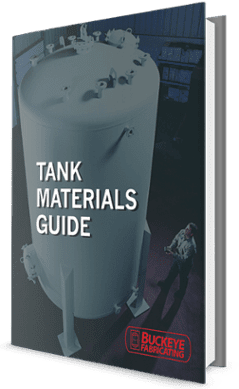 Download Your Tank Materials Guide.

As you are rounding third base and knocking down some big projects, there are still more to go and even less time. Do you have trouble selecting which tank materials are the best for your project? Could you use help deciding which materials are cheaper and yet as efficient as the others? If you answered "yes" to any of these questions, then this FREE tank materials guide is for you.
In this guide, learn the many different types of tank materials and how best to use each for whatever project. Avoid long decisions with a guide to the best tank materials all-in-one place! We know you may have a lot of projects, so we have armed you with the tools you need to tackle tough decision quickly.
Our guide tells you everything you need to know about tank materials:
Graphic chart grading each material on 5 categories including but not limited to price, weight, and corrosion resistance
In-depth analysis and comparison of materials
Pros/cons of each material in which situation as well as which is best suited for each project
Sign Up
Fill out the form below to download our tank materials guide!