Storage Tank Manufacturer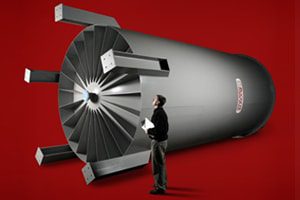 For more than 50 years Buckeye Fabricating Company has produced custom storage tanks to meet our customers' exact specifications. Our storage tank options include low or high pressure tanks, carbon or stainless steel storage tanks, non-code or ASME tanks, just to name a few. Buckeye has the capacity to build a storage tank with maximum dimensions of 12 feet in diameter and 40 feet long, and a volume of more than 30,000 gallons.
Regardless of your particular application, Buckeye Fabricating Company has the capability to produce storage tanks with a variety of metals making both carbon steel storage tanks and stainless steel storage tanks. Whether you need large volume storage tanks, very small process holding tanks, high-pressure tanks or low-pressure tanks, we have the capacity and expertise to make it happen.
Engineering Design & Support
Buckeye's design services team integrates your specific storage tank requirements with detailed CAD drawings and our broad engineering expertise to produce some of the finest quality storage tanks in the industry. Our CNC plasma cutter guarantees the highest degree of accuracy for the location and fit-up sizing of all storage tank cutouts. In addition, the system has line-marking capability to ensure that all storage tank attachments are accurately located. We build what you want and work with you on the details. Whether it's producing an ASME tank, pressure vessel, stainless steel storage tank or custom storage tank, you'll always be satisfied with the end result.
Reliability and Dependability Since 1963
Founded in 1963, Buckeye Fabricating Company is a widely recognized producer of high-quality, custom fabricated storage tanks. Centrally located in Springboro, Ohio, Buckeye Fabricating Company is the preferred storage tank source for companies nationwide. With over half a century of industry experience, our customers depend on us to deliver only the highest quality storage tanks while maintaining the most competitive pricing.
Contact Us
Call 1-800-688-9821 or fill & send below!