Stainless Steel Pressure Tanks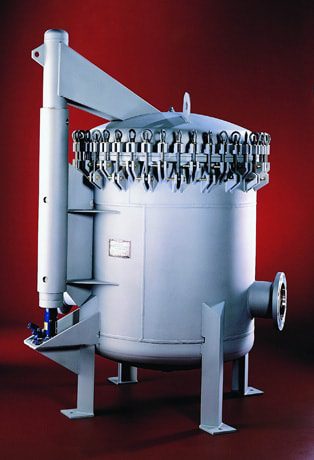 As a pressure vessel manufacturer with over 50 years of history, Buckeye Fabricating Company has its fair share of experience with stainless steel pressure tanks. In fact, such vessels comprise as much as 60% of Buckeye's annual revenues. Our decades of experience and industry-leading capabilities make us one of the nation's most reliable sources for custom-designed pressure tanks.
A Focus on Quality
Our custom stainless steel pressure tanks are built according to the rigorous American Society of Mechanical Engineers (ASME) Code.Our engineers design to ASME code to ensure that every tank we produce is reliable and long-lasting. For pressurized metal tanks, a failure can be devastating (both in physical damage and lost time), so reliability is essential. Our dedication to quality doesn't stop at the ASME Code however. Our rigorous quality control system ensures that every product we build is of the highest quality. Each vessel is thoroughly inspected for defects. Following inspection, the vessels are pressure tested to check for leaks. This focus on quality ensures that our final products are extremely reliable.
Custom Designed Pressure Vessels
Because precise manufacturing is so important, we use a CNC plasma cutter to build our custom designs. Among other features, this system has the ability to mark lines, verifying that device attachments are precisely installed.
Our CNC plasma cutter is also versatile enough to accommodate many different vessel sizes. It can cut stainless steel up to 1 inch thick. For flat plate cutting, it can handle cutouts up to 10 feet by 30 feet. It also accommodates dished head surfaces with a diameter up to 10 feet along the Z-axis. Buckeye's industry-leading manufacturing equipment combines precision with capacity. The benefit for our clients is that we build large pressure vessels with superior quality. We can build stainless steel pressure tanks as large as 12 feet in diameter and 40 foot long with an empty weight of 20,000 pounds.
The Fabricator of Choice
Over our years of experience, we have built tens of thousands of stainless steel pressure tanks. We put that experience into action on every pressure tank we design and produce, no matter how small or large. Each vessel is meticulously designed according to ASME specifications, then carefully inspected and tested before delivery to the customer. It is this dedication to quality that has made us the fabricator of choice for customers across the country.
Contact Us
Call 1-800-688-9821 or fill & send below!