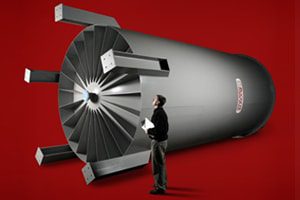 Buckeye Fabricating provides quality custom separator tanks to the Pulp and Paper and Oil and Gas industries, among others. We understand the myriad of functions a separator tank can perform, as well as the need for specific design requirements.
Separator tanks do exactly what it sounds: they separate the contents. In pulp and paper mills, separator tanks allow for sand and debris to be sorted from water. You'll also find our separator tanks in water treatment facilities where they are used to decontaminate water by splitting out solids and oils. In the oil production, several classifications of separator tanks are used. Test separators, production separators, and low-temperature separators are just a few of the tanks used to filter oil, gas, and water.
Separator tanks may be vertical or horizontal orientation and have wide ranging pressure requirements, depending upon the application. The method of separation also varies from one use to the next. Separators can be fitted with a strainer that filters as the contents arrive or depart the tank. They can also use density, impingement, force, as well as changes in temperature, direction, velocity or pressure.
There are many names for separator tanks – scrubber, knockout vessel, expansion vessel – but only one number to call. Next time you need a new or replacement tank, call Buckeye Fabricating at 1-800-688-9821 or visit us online. We can discuss your specific application and design a tank accordingly.
Contact Us
Call 1-800-688-9821 or fill & send below!