Pressure Vessel Manufacturer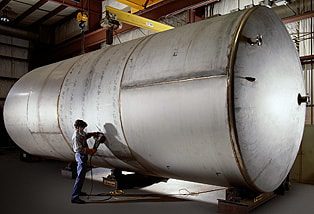 Quality Assurance
We manufacture steel pressure tanks and customize them to fit your specific needs. We strictly adhere to the time tested designs and codes established and enforced by the American Society of Mechanical Engineers (ASME). The ASME Code is a crucial part of our Quality Control since a faulty tank or vessel can be costly and potentially dangerous. We do not compromise on quality. In addition to following ASME code, we have our own quality assurance checks to ensure that all products manufactured by our company are of the best available quality.
In order to maintain the consistent quality and long term reliability of our vessels, each tank is individually tested and inspected prior to shipment. Quality assurance is a key component of our long term success and crucial to our customer's peace of mind.
Customized Pressure Vessels
Buckeye offers customers completely customized vessels. We use a variety of equipment, tools and design aides which allow us to build your tank your way. From the start, we use Inventor software to produce a fabrication drawing that is user friendly to both the customer and our trained fabricators. Our CNC plasma cutter is a tool that allows us to use line-marking capability to guarantee that all the tank attachments are accurately located. With the CNC machine we can cut thru 1-1/2" thick carbon steel and up to 1-1/4" thick stainless steel. Our plasma table can handle a steel plate that is 10 ft. wide x 30 ft. long and it can accommodate a 10 foot diameter dished tank head.
We manufacture high quality vessels with dimensions up to 12 foot diameter and 40 feet long. We can handle up to 20,000 pounds empty tank weight. Our equipment and experience allow us to combine capacity with precision.
Manufacturing Methods
As a leading pressure vessel manufacturer, we make use of cutting edge technology. The CAD design programs we employ and plate cutting technology allows us to work on various thicknesses of steel and gives us the ability to make tanks of varied sizes. We follow and enforce all ASME code rules and in addition we make use of our own Quality program.
Regardless of vessel design, size or thickness, all pressure vessels that we build undergo the same quality checks. The combination of ASME code rules and in house quality programs assure our customer's that we care about efficiency and safety. Buckeye Fabricating's quality is superior because of the close individual monitoring and testing that our vessels undergo. Our customers feel confident in the vessels we build. Experience, use of technology, ASME Code compliance and testing, along with our excellent Quality programs have helped establish Buckeye as a leading pressure vessel manufacturing company. Our excellent customer service team is looking forward to helping you!
Contact Us
Call 1-800-688-9821 or fill & send below!