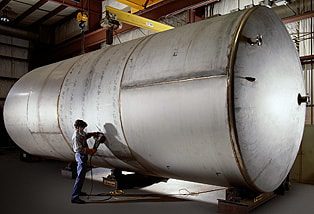 Buckeye Fabricating manufactures custom flash tanks for process heating, geothermal, HVAC, and a variety of other applications. Flash tanks are cost, usage, and energy efficient, as well as a safe and effective mechanism for handling condensate.
As the crucial component in a closed design steam system, flash tanks reduce the pressure and temperature of incoming water, allowing high-pressure condensate to flash – or vaporize – into steam. This steam goes on to supply heat to low pressure supply mains, replace or supplement steam from the boiler, cool low-pressure steam, or even power turbine-generators in geothermal energy systems. Flash tanks even improve the workplace by reducing vapor clouds in the facility.
Buckeye Fabricating's flash tanks are manufactured to ASME code and fabricated according to your specifications. Customers can specify the design pressure, material of construction, number and size of fittings, and interior/exterior finish, among others features.
Flash tanks make quality blowdown systems possible and Buckeye Fabricating makes quality flash tanks. Allow us to put our fabricating experience, cutting-edge production, and superior customer service to work for you. Contact us to speak with one of our knowledgeable team members by clicking here or calling 800-688-9821.
Contact Us
Call 1-800-688-9821 or fill & send below!