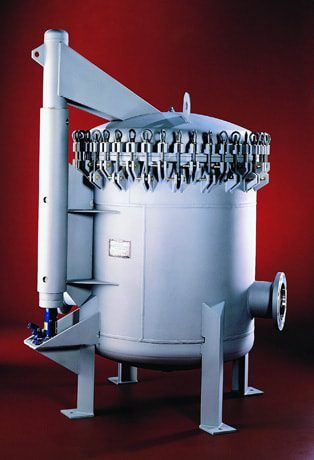 As one of the leading manufacturers of custom steel tanks, Buckeye Fabricating has more than 50 years of experience when it comes to fabricating high quality vessels. Buckeye Fabricating can fabricate anything from a 1 gallon tank to a 30,000 gallon, and everything in between!
When you decide to buy our custom steel tanks, you can expect the following:
Variety of Metals
Custom steel tanks to your design, in sizes from 1 gallon to 30,000 gallons, made from carbon steel, 304 and 304L stainless steel, and 316 and 316L stainless steel have been a specialty of Buckeye Fabricating since 1963.
Quality Assurance
With over 60,000 custom tanks fabricated and shipped, Buckeye Fabricating's customer base is loyal and serves as proof of our commitment to quality. If you are searching for a quality driven manufacturer of carbon or stainless steel tanks, you are at the right place! We can meet your tight delivery schedule without compromising the quality of your custom steel tank.
Experienced Manufacturers
From prototype tanks to large chemical storage tanks, Buckeye Fabricating has the experience, facility, equipment, and customer service to provide you with high quality tanks in a timely and cost effective manner. Having been in business for over 50 years and with over 60,000 ASME pressure vessels fabricated, Buckeye Fabricating can provide you with a turnkey tank solution. Very simply put, we want your buying experience to be flawless!
Cutting Precision
Buckeye Fabricating utilizes CNC plasma cutting technology for accuracy and precision when positioning the exact location of nozzles. This system ensures precise and accurate placement of tank fittings and attachments. The CNC plasma is capable of slicing through 1 ½ inch thick carbon steel or 1 inch thick stainless steel.
Variety of Industries Served
Buckeye Fabricating's custom steel tanks have been used by a variety of different industries, such as Chemical, Paper/Pulp, Aerospace, Press Stamping, and Energy Research, just to name a few. If you are looking for an experienced custom steel tank manufacturer, Buckeye Fabricating will be there to help.
If you're interested in talking with us about your custom pressure vessel needs please call us at 1-800-688-9821. You can also use our Contact Us Form or our Request a Detailed Quote Form, both of which are located on our website. Our excellent customer service team is looking forward to helping you!
Contact Us
Call 1-800-688-9821 or fill & send below!