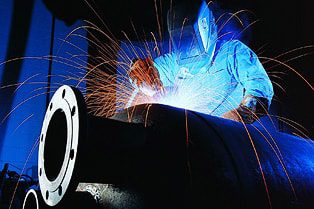 Condensate Recovery Systems are utilized in facilities looking to capture and reuse condensate. Water from throughout the facility is captured and reused in radiators, furnaces, and cooling systems. The benefits of such a system include energy efficiency, as well as reducing boiler water chemical and sewage treatment. Condensate tanks are a key component to these systems. 
Condensate tanks are known by many names: condensate return tanks, condensate recovery tanks, feedwater tanks, make-up tanks or even deaerating feed tanks (DFT). Operating in conjunction with a condensate pumps, condensate tanks are used to store the reclaimed condensate for future use. These tanks also rely on valves to regulate flow and switches to trigger indicate when the tank has reached capacity.
When a condensate tank is designed to remove oxygen from the condensate, the process is usually referred to as deaerating. Removing the air prevents the water from corroding the system as it is stored and reused. Deaerating tanks can be used as condensate tanks, or they can function as a separate component to the condensate recovery system.
Buckeye Fabricating will customize a condensate tank for your exact needs, no matter what you want to call it. Our carbon and stainless steel tanks are designed to suit your exact needs, with customization options ranging from number and quantity of fittings, to orientation and finishing requirements. We stand behind our products, 100% so there is no risk. Contact us today at 800-688-9821 or visit us online.
Contact Us
Call 1-800-688-9821 or fill & send below!